WEB CONSULTING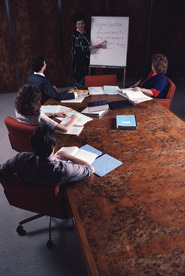 We begin by helping you determine how the Internet can contribute to meeting your business goals. Are the products or services you offer compatible with web presentation? If not, can they be made compatible? Can a web site reduce your current operating costs? What are your expectations for the investment in a web site and are those expectations reasonable? The list of questions is almost endless, but our experience can help you quantify and qualify your objectives for a web site.
All too often, we find that our customers adopt too narrow a view of the potential of a an Internet presence! For example, it is generally a mistake to simply put a catalog or products on the web without including links to the resource material for each product that could reduce your customer support costs.
Just as frequently, we find that people have unrealistic expectations about web commerce. The concept of throwing together a web and reaping a harvest of sales simply isn't practical unless your web site is part of a cohesive marketing, delivery and customer support plan.
The first step in developing a web site is to clearly define feasible and realistic goals for the venture. Then and only then should you commission the actual design!
Our role is to focus your thoughts on areas that will help you achieve a cohesive plan and realistic expectations. Working together, we can significantly ease your burden in formulating an effective Internet business plan!